internetVista keeps its expansion to make the web faster and more reliable.
We are proud to tell you that a new test location is now available! Starting from this week, you will be able to monitor your web performance from Reims. After adding London (U.K) in November, we now have expanded our list with a second monitoring center in France.
[alert type="success" icon-size="hide-icon"]⏱ Estimated reading time: 1 minute and 3 seconds[/alert]
Our monitoring locations
internetVista had strategically chosen their monitoring centers by covering 7 countries in Europe and 2 in North America. For those who needs to configure their web infrastructure (firewall), here is the detailed list:
🇫🇷 Reims (France)  – 178.170.62.47 – 2a00:c70:1:178:170:62:47:1
🇧🇪 Brussels (Belgium)  – 109.69.218.20 – 2a00:1528:be80:2:0:0:0:2
🇳🇱 Amsterdam (Netherlands) – 85.17.224.82 – 2001:1af8:4100:a066:4:0:0:0
🇨🇭 Lausanne (Switzerland)  – 37.35.105.42 – 2a03:2040:0:207:0:0:0:42
🇩🇪 Munich (Germany) – 78.46.102.213 – 2a01:4f8:120:92c3:0:0:0:2
🇺🇸 Dallas (USA) – 75.126.91.202 – 2607:f0d0:1104:82:0:0:0:2
🇫🇷 Roubaix (France) – 5.135.138.183 – 2001:41d0:8:cbb7:0:0:0:1
🇨🇦 Montréal (Canada)  – 192.99.63.84 – 2607:5300:61:0054::1
🏴󠁧󠁢󠁥󠁮󠁧󠁿 Londres (United-Kingdom) – 145.239.6.150 – 2001:41d0:800:296::
[alert type="success" icon-size="hide-icon"]Click here to view the whole monitoring centers list with their IP addresses (IPV4/IPV6)[/alert]
Managing your monitoring centers
This update will automatically be turned on in your monitoring list.
If for some reasons you want to exclude or pick only specific locations, here is how to do: Go to the "applications" tab and choose any applications under monitoring. You then have to click on "monitoring centers" and turn on/off the locations wished.
Note that you need to have at least 4 centers activated!
Path:
Applications > Monitoring Centers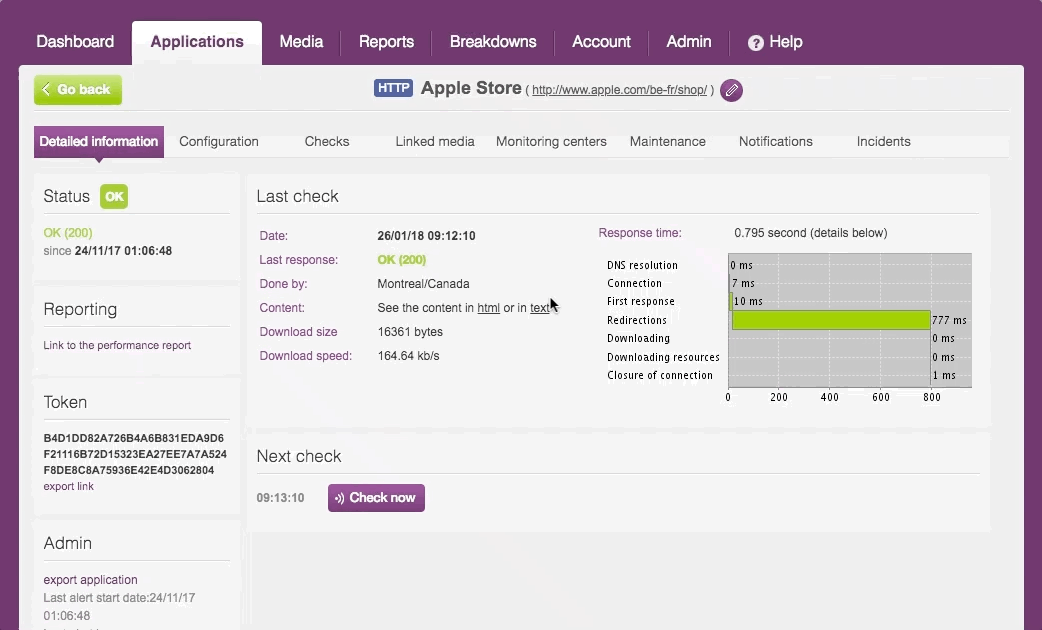 Having a global monitoring is crucial, especially if you sell your product/service outside from your own country. It will enable you to localize downtime and react faster when an outage is detected.