Studies prove it. If an Internet user has to wait more than 3 seconds, they simply leave your website… and seeing as your competitor is often only a click away from you, that's where they're headed. Not exactly what you had in mind? Of course not, so what can you do about it? The first step is to measure the response time of your website.
Response time
This post will tell you how to set up a simple indicator that lets you check whether your site is firing on all cylinders at any time. This indicator or KPI (Key Performance Indicator) revolves around the notion of response time, i.e. the time it takes for the page of your site to appear on your Internet user's browser. You can keep track of your website speed at all times.
So remind me, how does a website work?
What happens when an Internet user types an address (or URL) into a browser? A request is sent to a server whose address is known from the domain name. When the server receives this request, for example "give me the home page of the site!", the latter prepares a response that is in fact a set of information (HTML code, style files, images, etc.). The server then sends everything back to the user's browser. Ultimately, the browser receives this response and builds a page that appears in the browser and corresponds to the content requested by the user.
In layman's terms, response time is the length of time between the time the user requests the information and the time the information arrives in the browser.
Why is a low response time critical?
Today, it is estimated that, if this page does not arrive quickly enough, the Internet user and the mobile user in particular, will go elsewhere. And all that you can do is hope that "elsewhere" doesn't take them straight to your competitor.
In addition to losing customers or revenue, your website's response time has a significant impact on SEO. It's no secret that search engines index fast sites better than slow sites. As far back as 2010, Google announced: "Speed will be a major factor in the evolution of SEO in 2010″.
What's more, a slow website has an impact on the user's perception.
| | |
| --- | --- |
| 0 to 100 ms | Users are concentrated on the website and don't have time to think about anything except for your website |
| 100 to 300 ms | Users don't have the time to be distracted by anything but your website and on the whole have a feeling of speed |
| 300 to 1.000 ms | Users have to wait and their minds start to wander |
| 1.000 ms (or 1 sec) | Users start to lose patience and to leave your website |
| 10.000 ms (10 sec) and more | Users are frustrated... bye-bye... |
How to measure my website's speed or response time?
To find out exactly how fast your response time is, you can use internetVista which allows you to track your website' speed in real time. As a key indicator, it means you can offer your customers a high-quality service.
Knowing that your website is available and accessible to visitors is so critical!
What is a good response time?
The answer to this question is illustrated by the response times of the champions of the web. Here are some authoritative response times: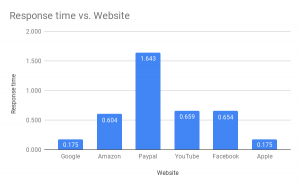 You can also find the information in one of the availability studies conducted by internetVista.
Google – 0,175 sec
Apple – 0,175 sec
Amazon – 0,604 sec
Facebook – 0,654 sec
YouTube – 0,659 sec
Paypal – 1,643 sec
Conclusion
As we've seen, response time is an indicator you can't afford to overlook if you want to remain credible, and profitable, on the web.  An indicator, moreover, that is easily available on internetVista.com